Owner
Cynthia
With more than a decade of experience she is a master colorist and stylist that will surely take your hair to the next level. Whether you are looking for a total change, or just want to freshen your look a little, she will add boost to your hair and color. Cynthia has an eye for creating natural looking highlights and complementary tones that will surely give your hair lots of shine and shimmer. Not only does she excel with master coloring but making her bridal clients content is key too. Her other passion is hair extensions, for which she is an Aqua hair extension specialist – why not give your hair a magical boost that you can't grow over night! It's not only about creating a fabulous look for you, but also about finding what works best with your lifestyle. She strives to always provide you a style that is manageable in the salon and at home. Cynthia has trained in the L'Oreal Academy and also became a L'Oreal Master Balayage artist, which is also one of her specialties. "Balayage is my new love for hair." Her goal is to always train her team with evolving in new techniques and education. Cynthia's attention to detail and her ability to create a unique look that complements each clients individuality is what continues to motivate her each day. Nothing is better than making a women look and feel her best. Whether doing a haircut or creating a rich color, keeping the hair shiny and healthy is what is most important. Opening REVEAL Hair Studio allows us to share the love that we have for hair. If you don't look good we don't look good! And if you don't know how to style you hair then let us teach you because we want you to look the best and feel the best.
Master Stylist and Colorist
NIkki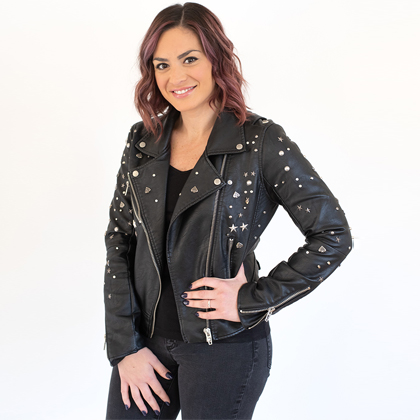 Nikki is our Master Stylist and Colorist, with almost a decade in the industry. She graduated from Pace University and Capri Cosmetology. Nikki has taken many classes at the L'Oréal Academy in NYC. Her certifications she has received include, precision and trend cutting as well as specific techniques for finalizing and perfecting the overall look, as well as Balayage techniques and hair extension perfection. Nikki believes that education is one of the most important things to have, and when you combine talent and education with your career, you become unstoppable.
Assistant & Stylist
Nicole
Nicole is a very talented recent graduate from Capri Cosmetology school and is very eager to learn new techniques and develop her skills as a future colorist and stylist.
@Nicolebeautyartistry
Stylist, Colorist & Makeup Artist
Tonka
The Newest member of our Reveal Team !